The Korean Office for Research and Education (KORE) is a collaboration of Korean scholars at York University and at Eastern Canadian University. It was founded in February 2018 with the Core University Program for Korean Studies grant from the Academy of Korean Studies (AKS). KORE's mandate is the promotion of a new, critical, comparative and transnational Korean studies. Drawing from the expertise of Korean scholars at York as well as other stakeholders and academic partners in Eastern Canada, KORE aims to play a leadership role in directing cutting-edge research and facilitating intellectual exchanges. KORE also supports teaching initiatives at York University. In 2018, KORE members at York University and associate members in 7 other universities launched a five-year project, "Korea in the World, and World in Korean Studies." The project team consist of 20 members, including Hyun Ok Park as the director and Mihyon Jeon as the deputy director.
Applications Open
Applications are open for [1] KORE Graduate Student Grant
For more information, contact Minyoung Kye, the KORE coordinator, at KORE@yorku.ca.
Click above link to view more
November 10, 2022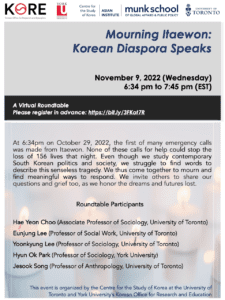 November 9, 2022
Click above link to view more
---