Platform Capitalism and Platform Labor: Gender, Precarity, and Resistance Part 2
October 29, 2021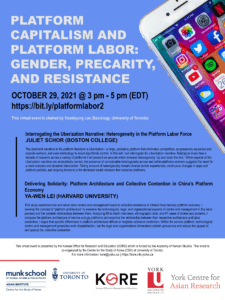 This event is chaired by Yoonkyung Lee (Sociology, U of T)
SPEAKER 1
Juliet Schor, "Interrogating the Uberization Narrative: Heterogeneity in the Platform Labor Force"
Abstract:
The dominant narrative in the platform literature is Uberization—a large, predatory platform that eliminates competitors, progressively squeezes and exploits workers, and uses technology to enact algorithmic control. In this talk I will interrogate the Uberization narrative. Relying on more than a decade of research across a variety of platforms I will present an account which stresses heterogeneity "up and down the line." While aspects of the Uberization narrative are undoubtedly correct, the presence of considerable heterogeneity across and within platforms workers suggests the need for a more complex and dynamic theorization. Taking account of heterogeneity reveals diverse worker experiences, continuous changes in apps and platform policies, and ongoing tensions in the dominant social relations that comprise platforms.
Bio:
Juliet Schor is an economist and Professor of Sociology at Boston College. Schor's research focuses on work, consumption, and climate change. A graduate of Wesleyan University, Schor received her Ph.D. in economics at the University of Massachusetts. Before joining Boston College, she taught at Harvard University for 17 years. In 2020 she published After the Gig: How the Sharing Economy Got Hijacked and How to Win it Back (University of California Press 2020), which won the Porchlight Management and Workplace Culture Book of the Year. Schor's previous books include the national best-seller The Overworked American: The Unexpected Decline of Leisure, The Overspent American: Why We Want What We Don't Need, and True Wealth: How and Why Millions of Americans are Creating a Time-Rich, Ecologically Light, Small-Scale, High-Satisfaction Economy.
---
SPEAKER 2
Ya-Wen Lei, "Delivering Solidarity: Platform Architecture and Collective Contention in China's Platform Economy"
Abstract:
This study examines how and when labor control and management leads to collective resistance in China's food-delivery platform economy. I develop the concept of "platform architecture" to examine the technological, legal, and organizational aspects of control and management in the labor process and the variable relationships between them. Analyzing 68 in-depth interviews, ethnographic data, and 87 cases of strikes and protests, I compare the platform architecture of service and gig platforms and examine the relationship between their respective architecture and labor contention. I argue that specific differences in platform architecture diffuse or heighten collective contention. Within the service platform, technological control and management generates work dissatisfaction, but the legal and organizational dimensions contain grievances and reduce the appeal of, and spaces for, collective contention. Conversely, within the gig platform, all three dimensions of platform architecture reinforce one another, escalating grievances, enhancing the appeal of collective contention, and providing spaces for mobilizing solidarity and collective action. As a result, gig platform couriers are more likely to consider their work relations exploitative and to mobilize contention, despite facing higher barriers to collective action due to the atomization of their work.
Bio:
Ya-Wen Lei is Associate Professor in the Department of Sociology at Harvard University, and is affiliated with the Fairbank Center for Chinese Studies and the Weatherhead Center for International Affairs. She is the author of The Contentious Public Sphere: Law, Media and Authoritarian Rule in China (Princeton University Press, 2018). Her articles have appeared in American Journal of Sociology, American Sociological Review, The China Quarterly, Law & Society Review, Socius, and Political Communication. At this moment, she is finishing her second book manuscript tentatively entitled Upgrading the Nation: Promise and Peril of Techno-Developmentalism in China (Under Contract with Princeton University Press).
---
This virtual event is presented by the Korean Office for Research and Education (KORE) which is funded by the Academy of Korean Studies. This event is co-organized by the Centre for the Study of Korea (CSK) at University of Toronto.