Documentary Screening – "Comfort" by Emmanuel Moonchil Park
January 13, 2023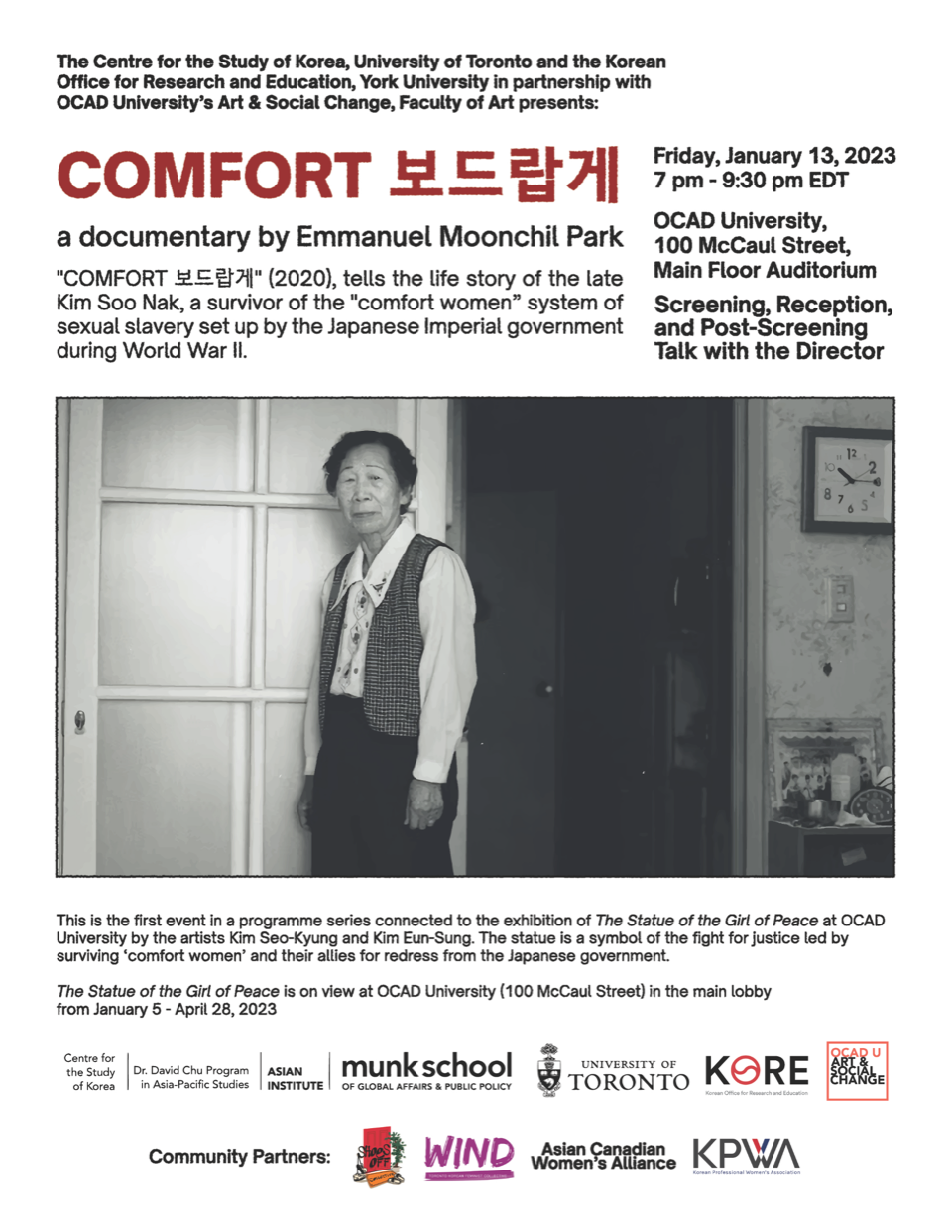 Event Description
This is the first event in a programme series connected to the exhibition of The Statue of the Girl of Peace at OCAD University by the artists Kim Seo-Kyung and Kim Eun-Sung. The statue is a symbol of the flight for justice led by surviving 'comfort women' and their allies for redress from the Japanese government.
COMFORT
a documentary by Emmanuel Moonchil Park.
 "COMFORT 보드랍게" (2020), tells the life story of KIM Soonak, a survivor of the "comfort women system" and so much more. After the war, she engaged in the US military camptown sex trade, and also worked as a maid. Weaving interviews of activists, archive footage, animation, and the recital of testimonies, the film reconstructs the life stories of the late KIM Soonak. It won the Documentary Award at the 2020 Jeonju International Film Festival and the Beautiful New Docs Award at the 2020 DMZ International Documentary Film Festival.
Emmanuel Moonchil Park is a filmmaker based in Daegu, South Korea. His films over the last decade have offered insightful and nuanced social commentaries on gender and activism. His first feature, MY PLACE (2013), tells the story of his sister's single motherhood and his family's reverse migration from Canada to Korea. It screened at Hot Docs Canadian International Documentary Festival in 2014 and has won multiple awards including the Jury Award at the Seoul Independent Film Festival. BLUE BUTTERFLY EFFECT (2017), traces the anti-THAAD peace movement in Seongju, where local residents and activists organized a fierce opposition to the US military's installation of an anti-ballistic missile defense system. It won the Best Documentary award at the 2017 Jeonju International Film Festival. QUEER053 (2019) tells the remarkable story of how Daegu, a notoriously conservative city, became the site of an annual queer culture festival second only to Seoul.
Presented by the Centre for the Study of Korea (CSK) at the Asian Institute, Munk School, University of Toronto and the Korean Office for Research and Education (KORE) at York University, which is funded by the Academy of Korean Studies. In partnership with OCADU University's Art & Social Change, Faculty of Art and co-sponsored by the Dr. David Chu Program in Asia-Pacific Studies at the Asian Institute, the Toronto Korean Feminist Collective (WIND), Asian Canadian Women's Alliance, Korean Professional Women's Association, and Shoes Off Collective.
For more information: https://munkschool.utoronto.ca/event/documentary-screening-comfort-emmanuel-moonchil-park