Book Talk: Memory Construction and the Politics of Time in Neoliberal South Korea
January 20, 2023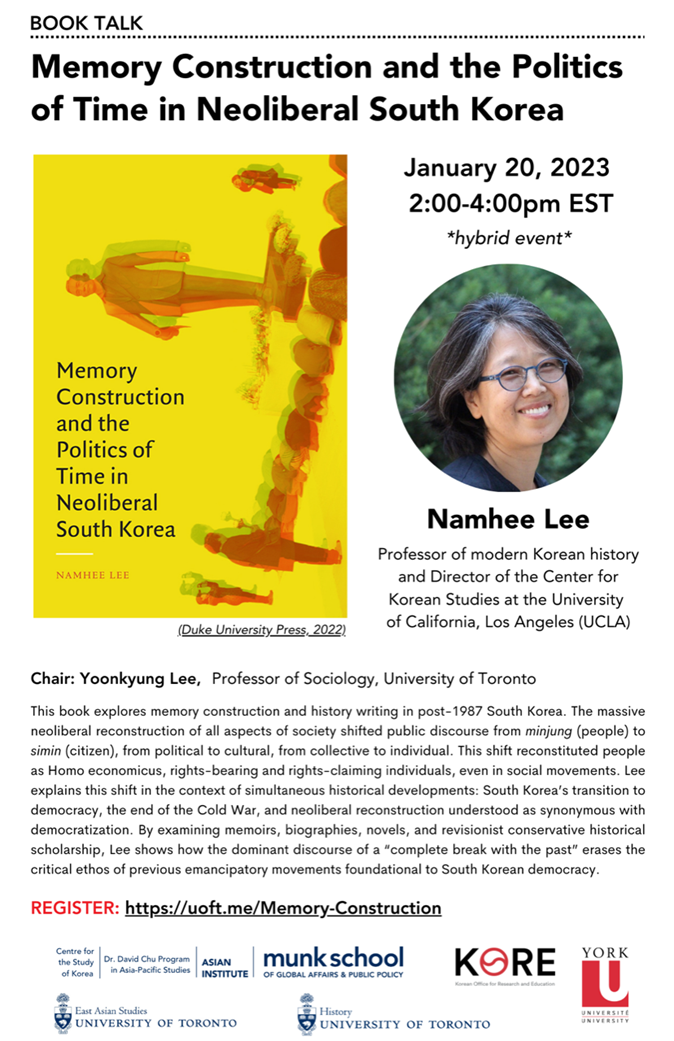 Event Description
Speaker | Namhee Lee
Namhee Lee is Professor of modern Korean history and Director of the Center for Korean Studies at the University of California, Los Angeles (UCLA). Her publications include The Making of Minjung: Democracy and the Politics of Representation in South Korea (Cornell University Press, 2007), The South Korean Democratization Movement: A Sourcebook (co-edited with KIM Won, Academy of Korean Studies, 2016), and Memory of Construction and the Politics of Time in Neoliberal South Korea (Duke University Press, 2022).
Chair | Yoonkyung Lee (Professor of Sociology, University of Toronto)
This event is co-organized by the Centre for the Study of Korea (CSK) at the Asian Institute, Munk School, University of Toronto and the Korean Office for Research and Education (KORE) at York University, which is funded by the Academy of Korean Studies. This event is co-sponsored by the Dr. David Chu Program in Asia-Pacific Studies at the Asian Institute and the Department of East Asian Studies and the Department of History, University of Toronto.