Voices from Below: Socially Engaged Art in Contemporary China
March 26, 2019
Tuesday, 26 March 2019 | 11:30am to 1:30pm | Room 626, Sixth Floor, Kaneff Tower, York University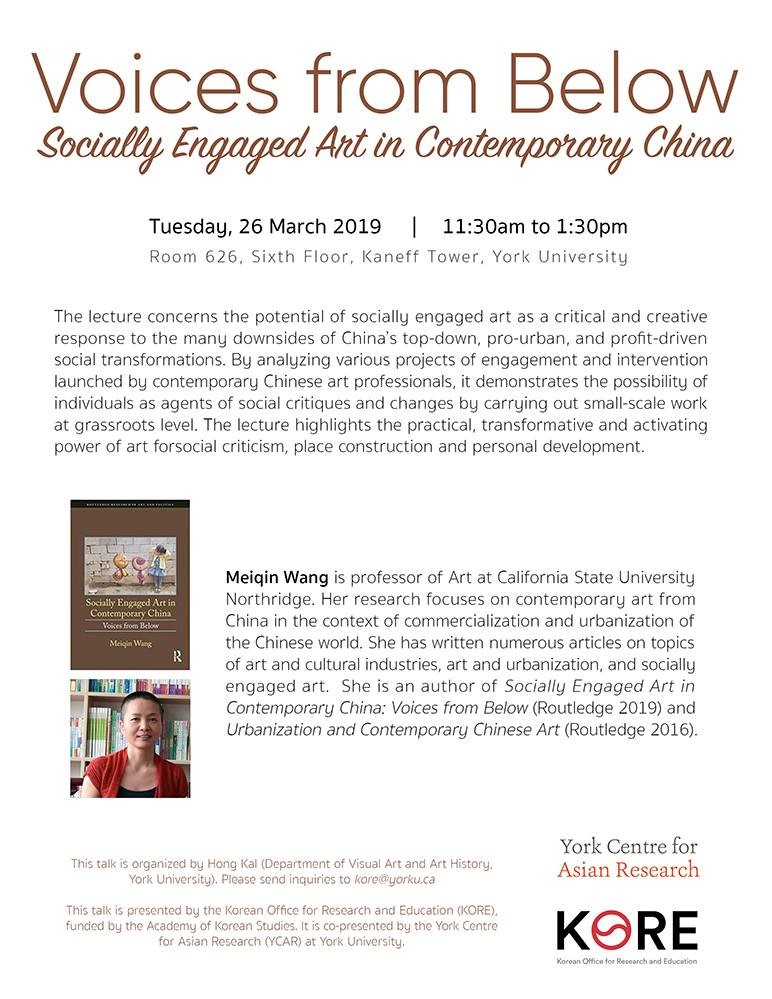 This lecture by Meiqin Wang concerned the potential of socially engaged art as a critical and creative response to the many downsides of China's top-down, pro-urban and profit-driven social transformations. By analyzing various projects of engagement and intervention launched by contemporary Chinese art professionals, her discussion demonstrated the possibility of individuals as agents of social critiques and changes by carrying out small-scale work at grassroots level. The lecture highlighted the practical, transformative and activating power of art for social criticism, place construction and personal development.
Meiqin Wang is a professor of Art at California State University Northridge. Her research focuses on contemporary art from China in the context of commercialization and urbanization of the Chinese world. She has written numerous articles on topics of art and cultural industries, art and urbanization, and socially engaged art. She is an author of Socially Engaged Art in Contemporary China: Voices from Below (New York: Routledge, 2019) & Urbanization and Contemporary Chinese Art (New York: Routledge, 2016).
This talk was organized by Hong Kal (Department of Visual Art and Art History, York University) and presented by the Korean Office for Research and Education (KORE) funded by the Academy of Korean Studies. It was co-presented by the York Centre for Asian Research and the Art Gallery of York University.