The Role and Vision of the 416 Memory Archive and the 416 Memory Classroom
April 9, 2021
Friday, April 9th, 2021  |  9:00 PM - 10:30 PM ET
View PDF version of this poster (232kb)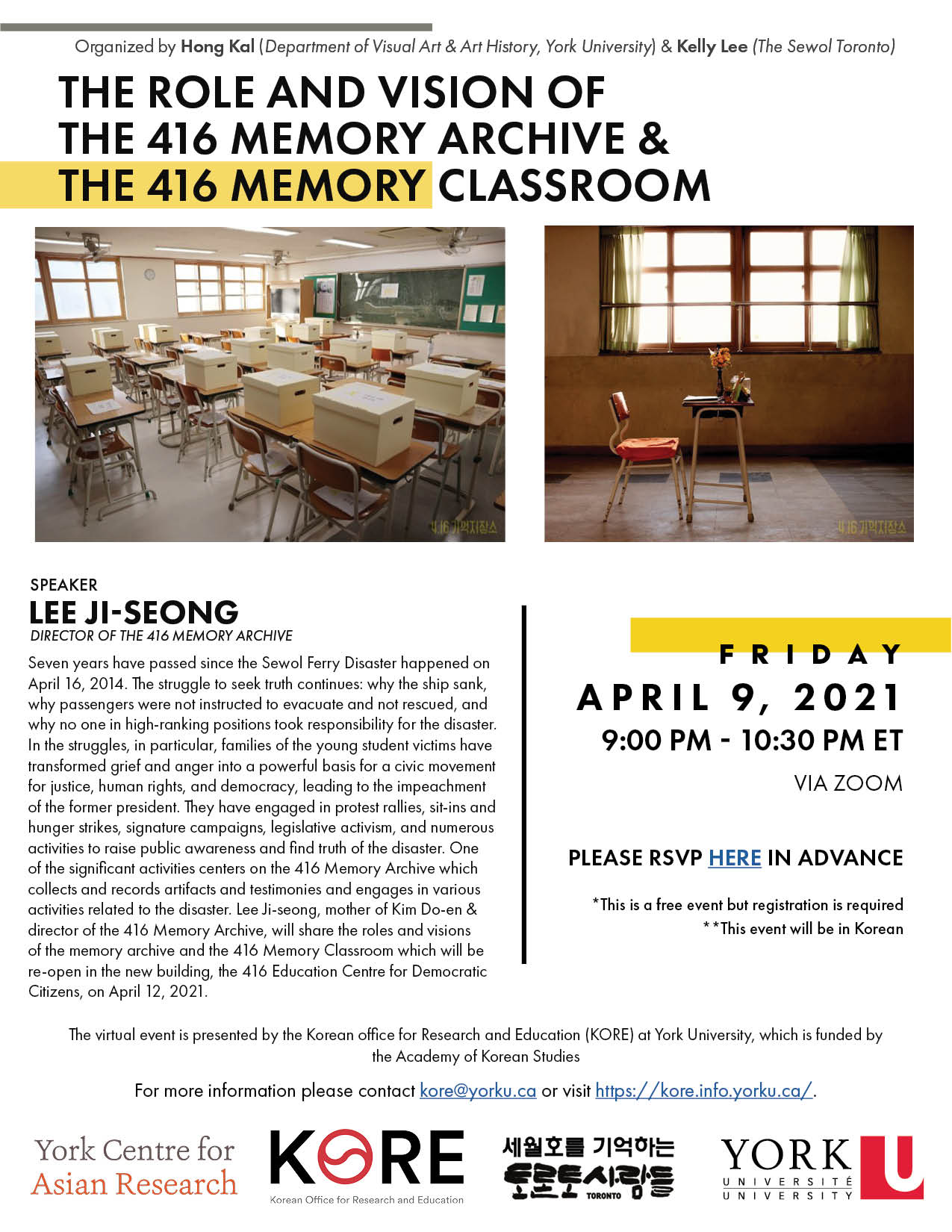 This is a free event* but registration is required. Upon registration, you will receive a Zoom link.
*This event will be in Korean.
Speaker: Lee Ji-Seong (Director of the 416 Memory Archive)
Event Description
Seven years have passed since the Sewol Ferry Disaster happened on April 16, 2014. The struggle to seek truth continues: why the ship sank, why passengers were not instructed to evacuate and not rescued, and why no one in high-ranking positions took responsibility for the disaster. In the struggles, in particular, families of the young student victims have transformed grief and anger into a powerful basis for a civic movement for justice, human rights, and democracy, leading to the impeachment of the former president. They have engaged in protest rallies, sit-ins and hunger strikes, signature campaigns, legislative activism, and numerous activities to raise public awareness and find truth of the disaster. One of the significant activities centers on the 416 Memory Archive which collects and records artifacts and testimonies and engages in various activities related to the disaster. Lee Ji-seong, mother of Kim Do-en & director of the 416 Memory Archive, will share the roles and visions of the memory archive and the 416 Memory Classroom which will be re-open in the new building, the 416 Education Centre for Democratic Citizens, on April 12, 2021.
This event is organized by Hong Kal (Department of Visual Art and Art History at York) and Kelly Lee (The Sewol Toronto)
The virtual event is presented by the Korean office for Research and Education (KORE) at York University, which is funded by the Academy of Korean Studies.
For more information, please contact kore@yorku.ca or visit http://kore.info.yorku.ca