The Emergence of a New Wave of Feminism? Gangnam Femicide, Misogyny, and Feminist Movements in South Korea.
February 7, 2019
Thursday, 7 February 2019 | 2:30pm to 5:30pm | Room 802, South Ross Building, Keele Campus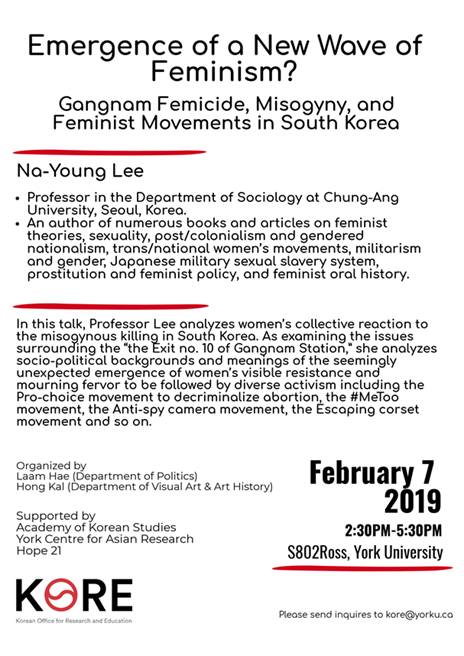 In this talk, Na-Young Lee analyzed women's collective reaction to the misogynous killing in South Korea, highlighting the significance of women's passionate aspiration. While examining the issues surrounding the "Exit no.10 of Gangnam Station," she analyzed the socio-political backgrounds and meanings of the seemingly unexpected emergence of women's visible resistance and mourning fervor followed by diverse activism, including the Pro-choice movement to decriminalize abortion, the #MeToo movement, the Anti-spy camera movement, the Escaping corset movement and so on.
Na-Young LEE is Professor in the Department of Sociology at Chung-Ang University in Seoul, Korea. She has published many books and articles in Korean, in English and in Japanese, covering the subjects of Japanese military 'comfort women,' U.S. military bases, prostitution, gendered space, women's oral history, and migration. In addition, as involving in activist fields of Japanese military sexual slavery, anti-prostitution movement, and anti-US military prostitution movement, she has served on the boards of various academic professional associations for Women's Studies, Sociology, Oral History, Media Studies, and Cultural Studies in Korea. Her international publication include "Un/forgettable Histories of US Camptown Prostitution in South Korea: Women's Experiences of Sexual labor and Government Policies" (2017); Women's Activism and "Second Wave" Feminism (co-author) (2017); "Korean Men's Pornography Use, Their Interest in Extreme Pornography, and Dyadic Sexual Relationships" (co-author) (2015), among others. Her major research areas are feminist theories, sexuality, post/colonialism and gendered nationalism, trans/national women's movements, militarism and gender, Japanese military sexual slavery system, prostitution and feminist policy, and feminist oral history.
This talk was organized by Laam Hae (Politics) and Hong Kal (Visual Art and Art History) and presented by the Korean Office for Research and Education (KORE) funded by the Academy of Korean Studies. It was co-supported by the York Centre for Asian Research (YCAR) and Hope 21.