Kim's In/Convenience: The Model Minority Paradox | 2020 Korean Canadian Student Conference
November 19, 2020
Thursday 19 November 2020  |  4 - 6 PM EST via Zoom
York University
All Welcome
View PDF version of this event poster (137KB)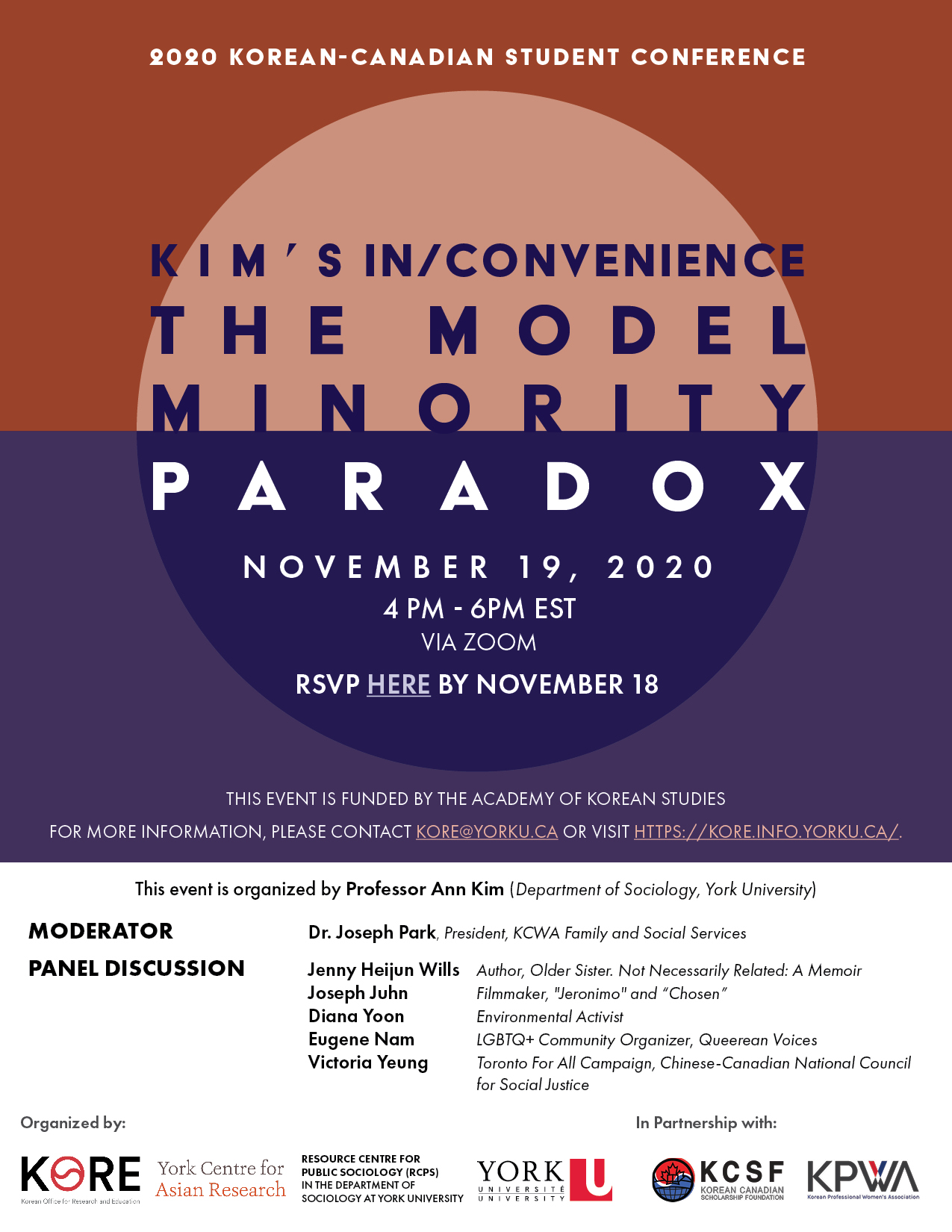 Organized by
Korean Office for Research and Education (KORE) at the York Centre for Asian Research (YCAR)
Resource Centre for Public Sociology (RCPS) in the Department of Sociology at York
And funded by the Academy of Korean Studies
In partnership with
Korean-Canadian Scholarship Foundation (KCSF), Student Development Committee (SDC)
Korean Professional Women's Association (KPWA)
*Text version of the event schedule, speakers, and moderators is available below the slides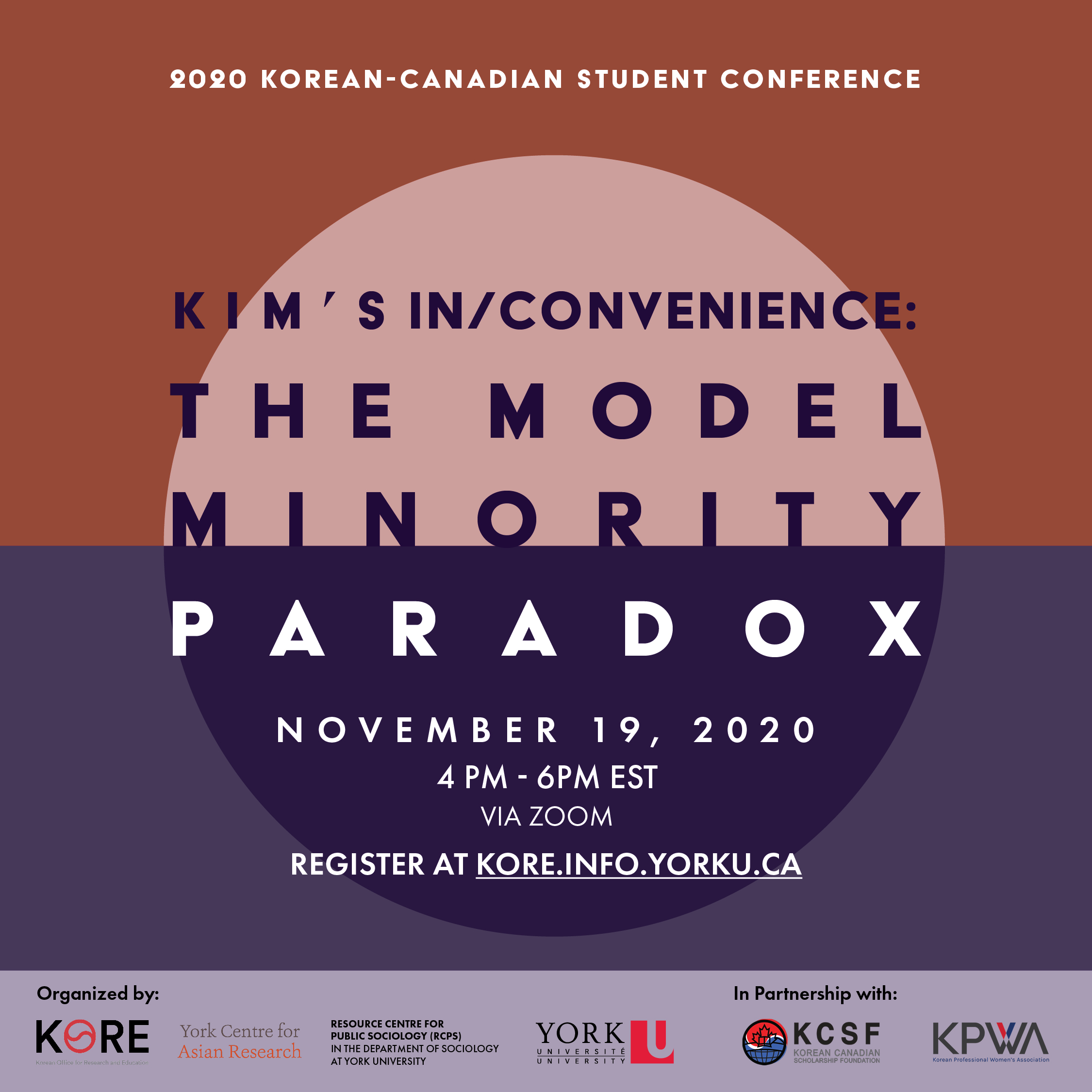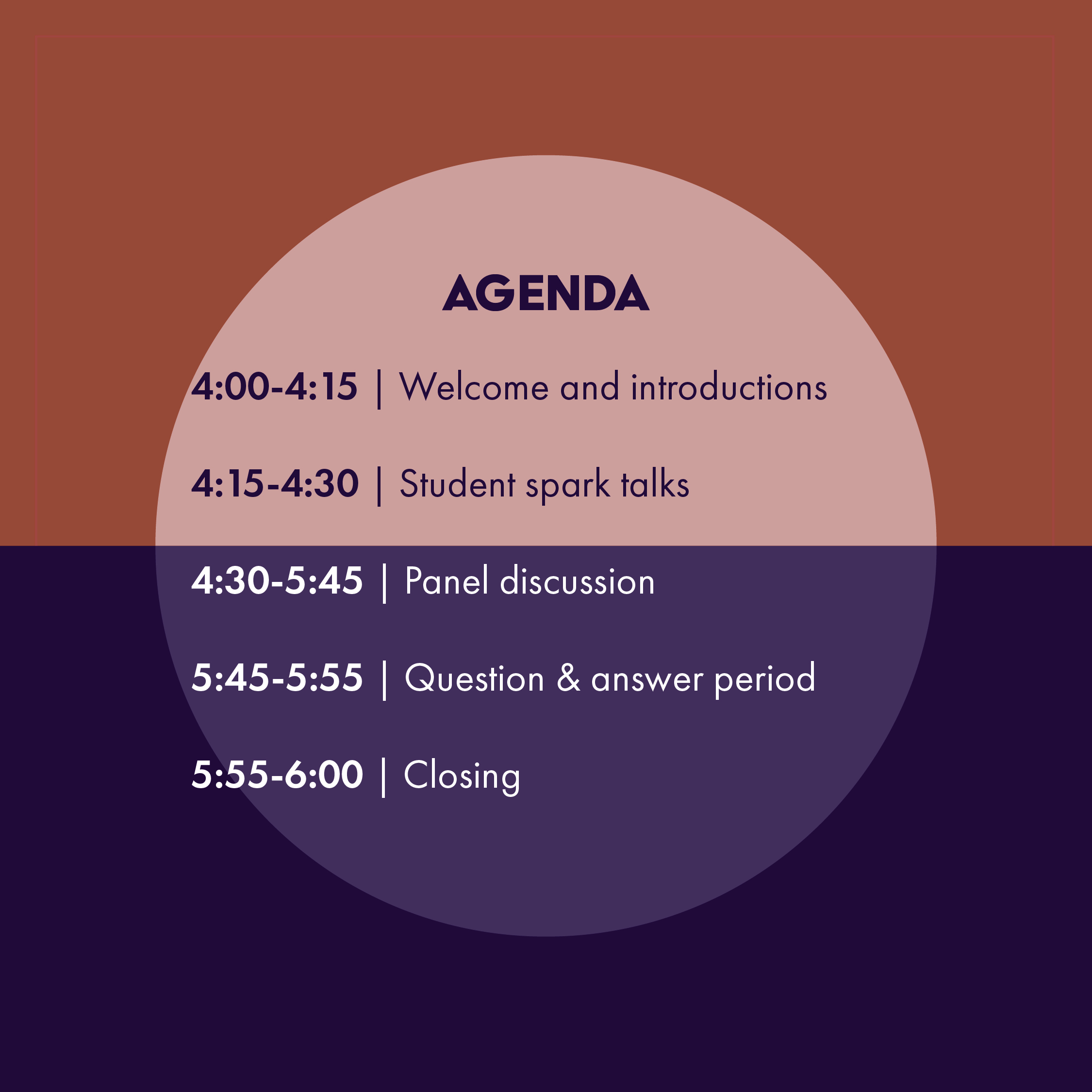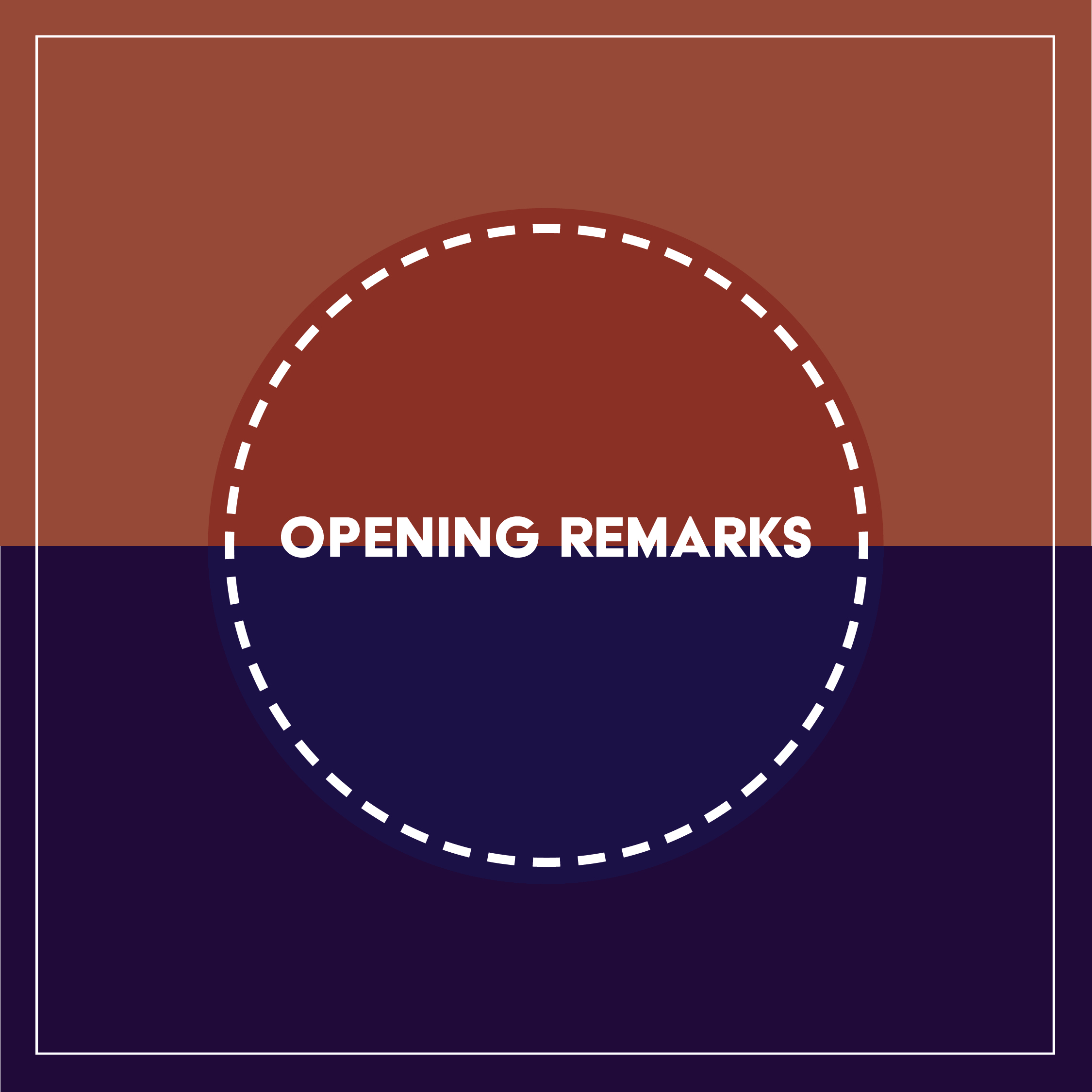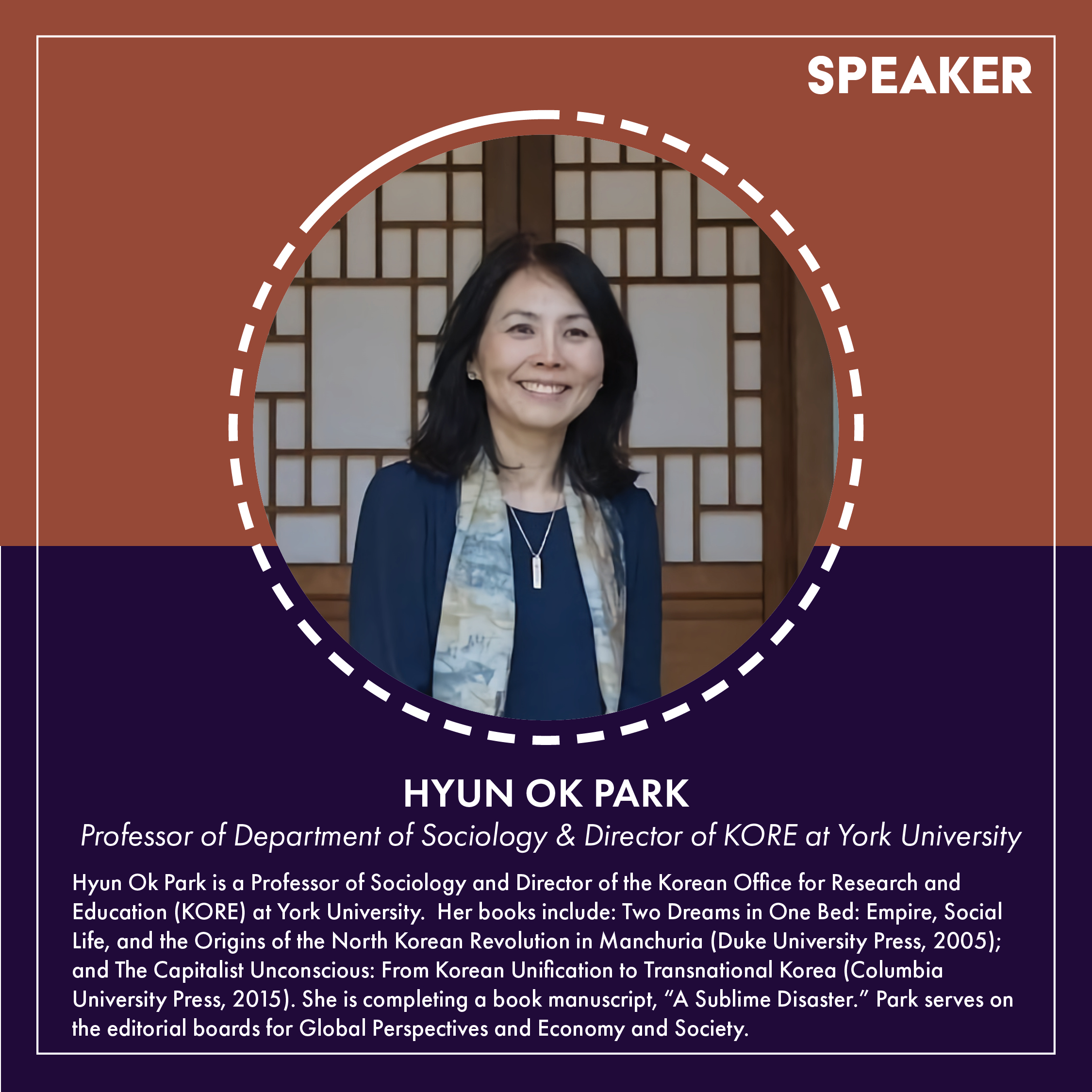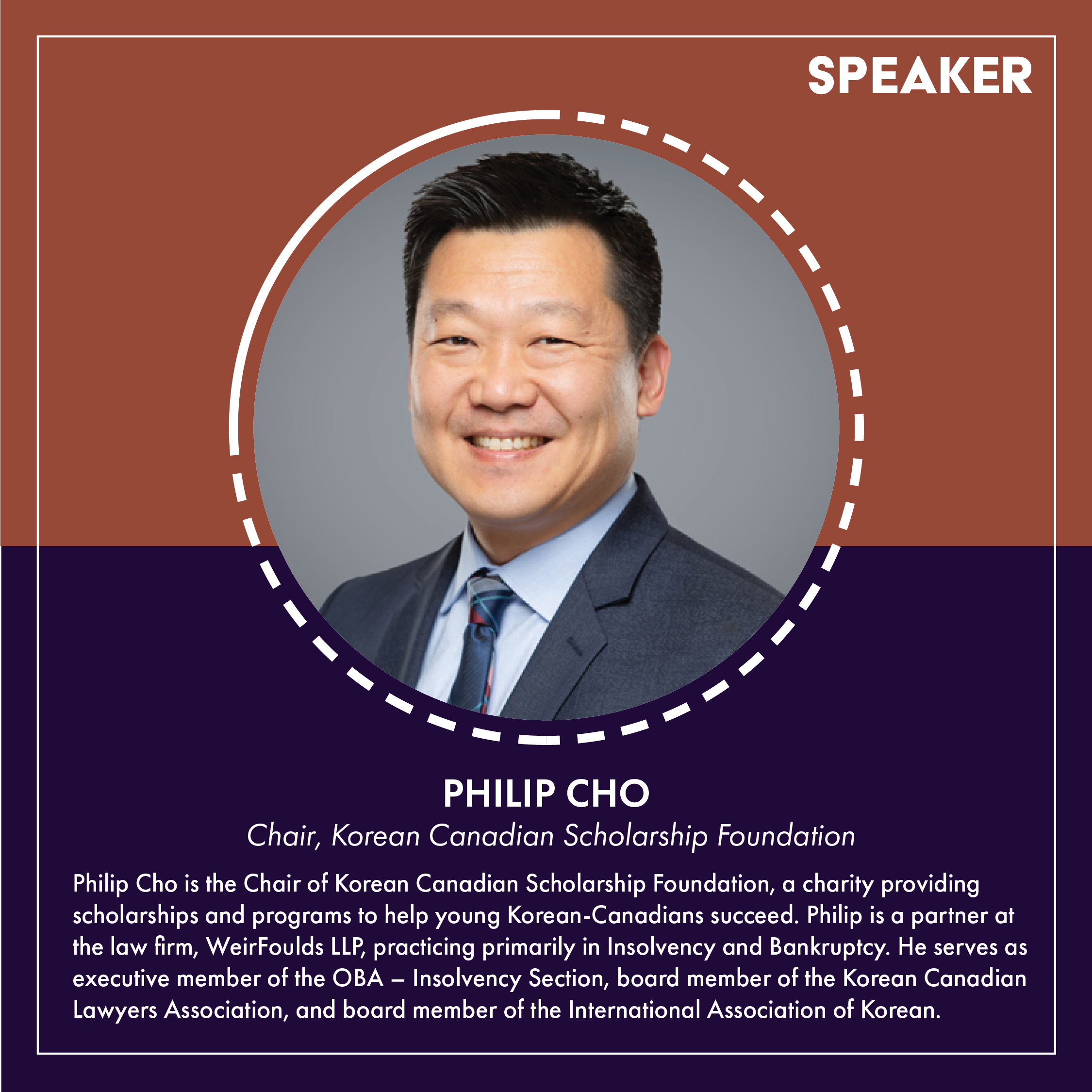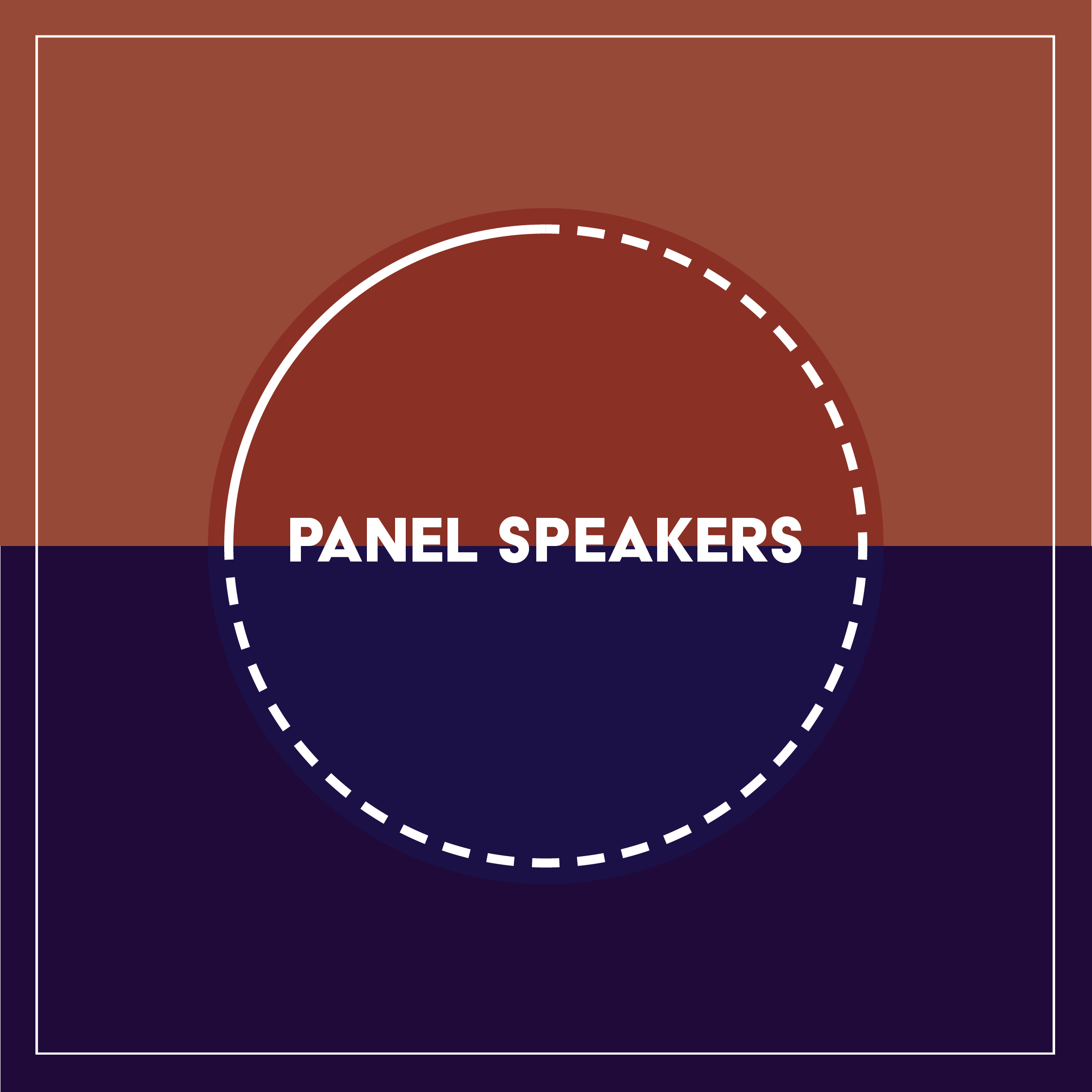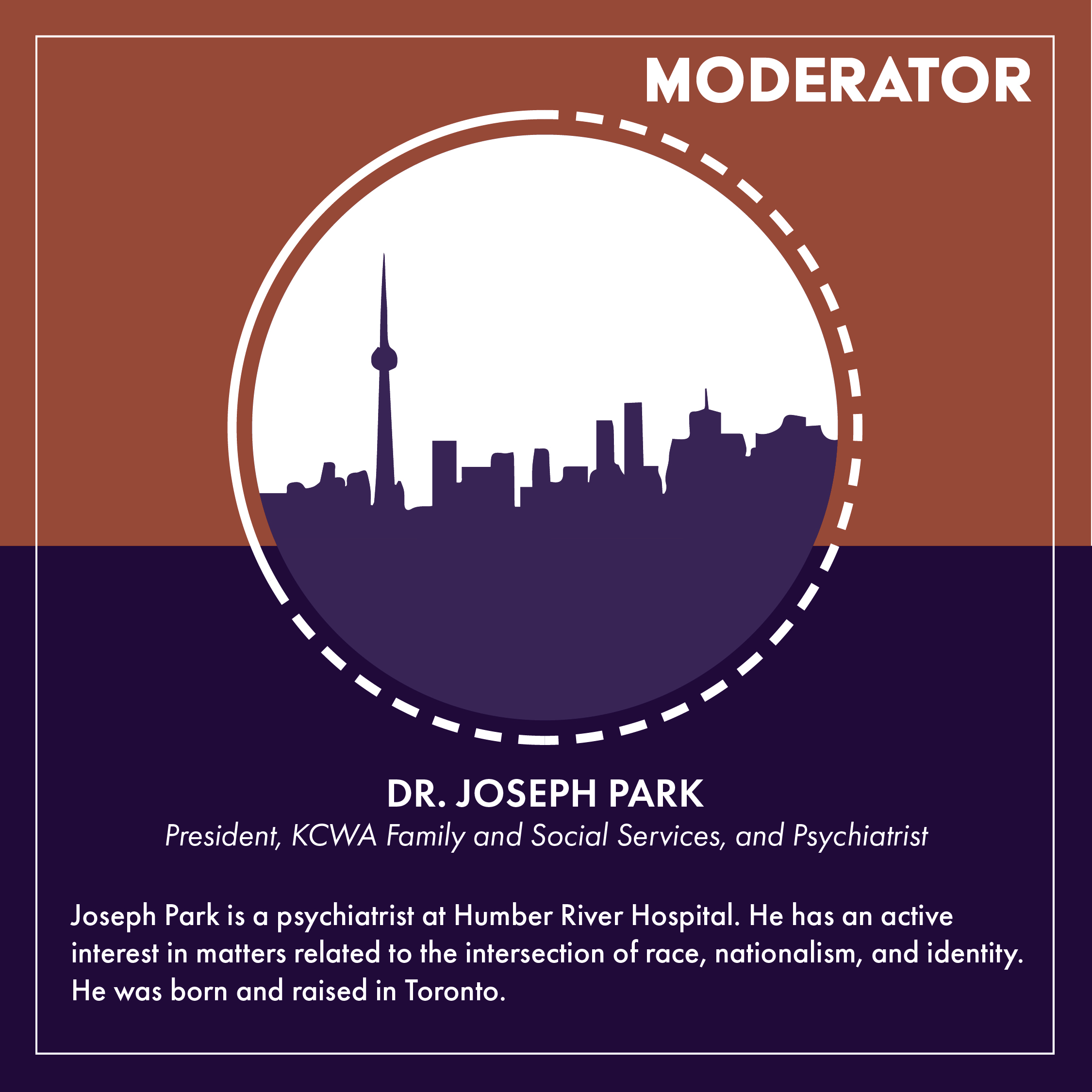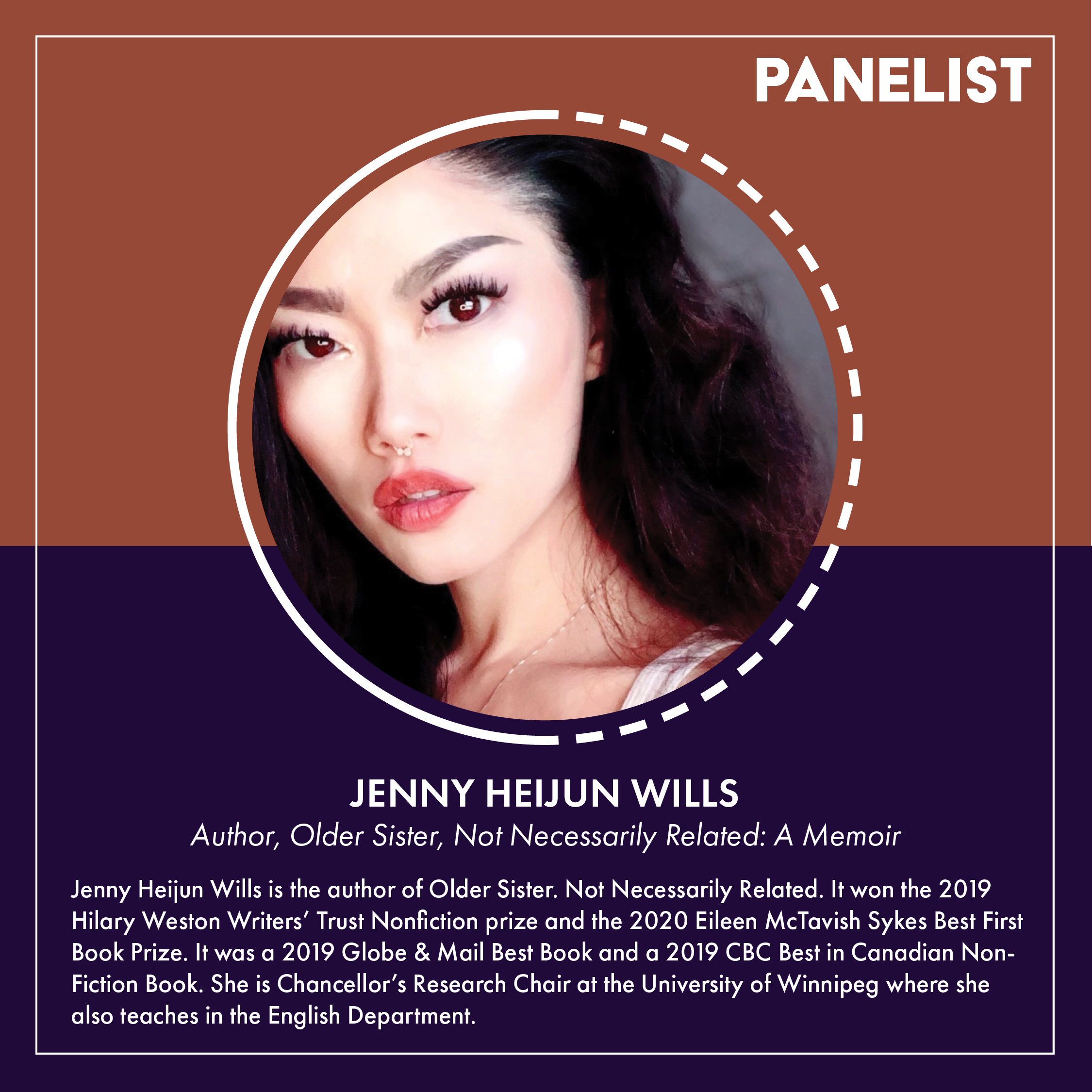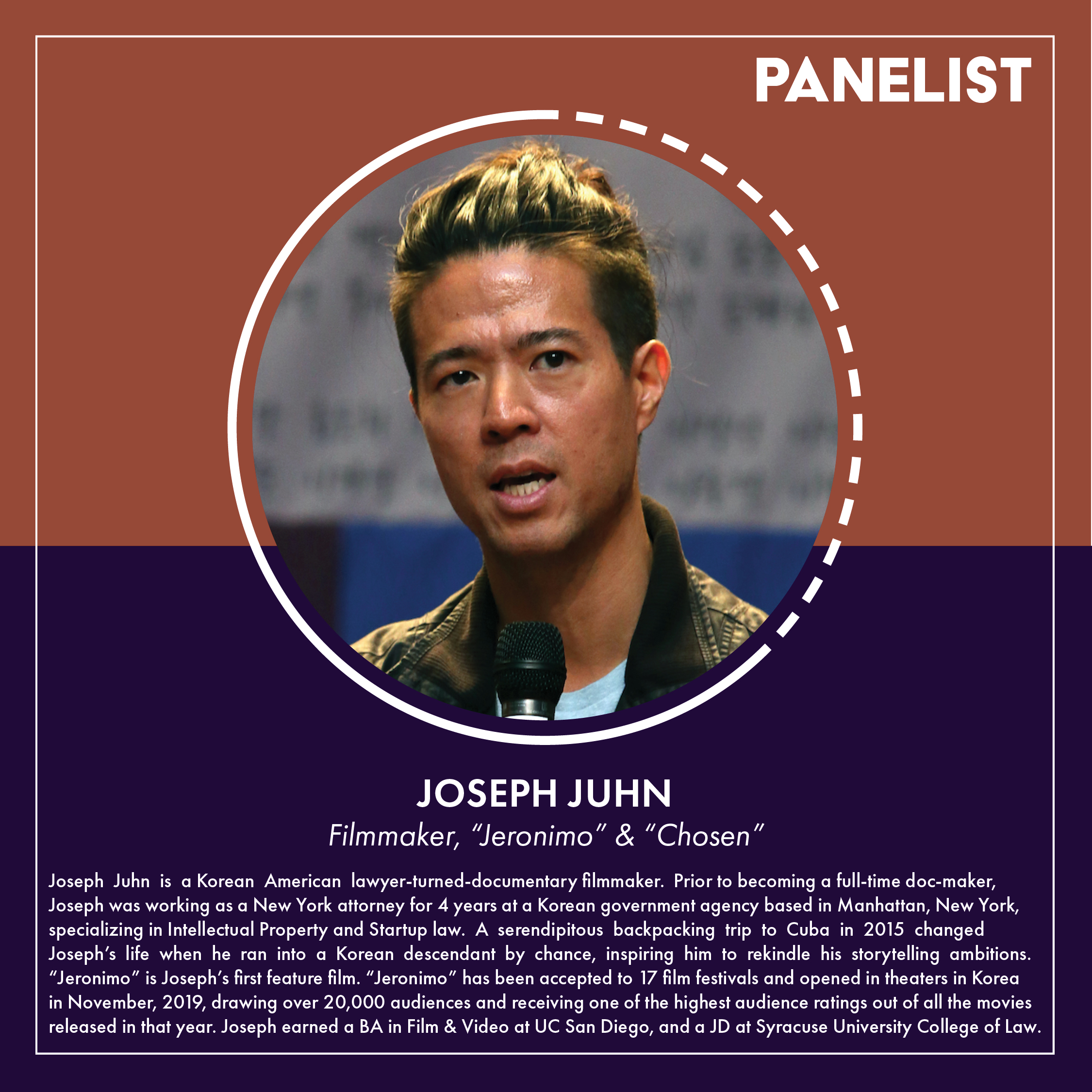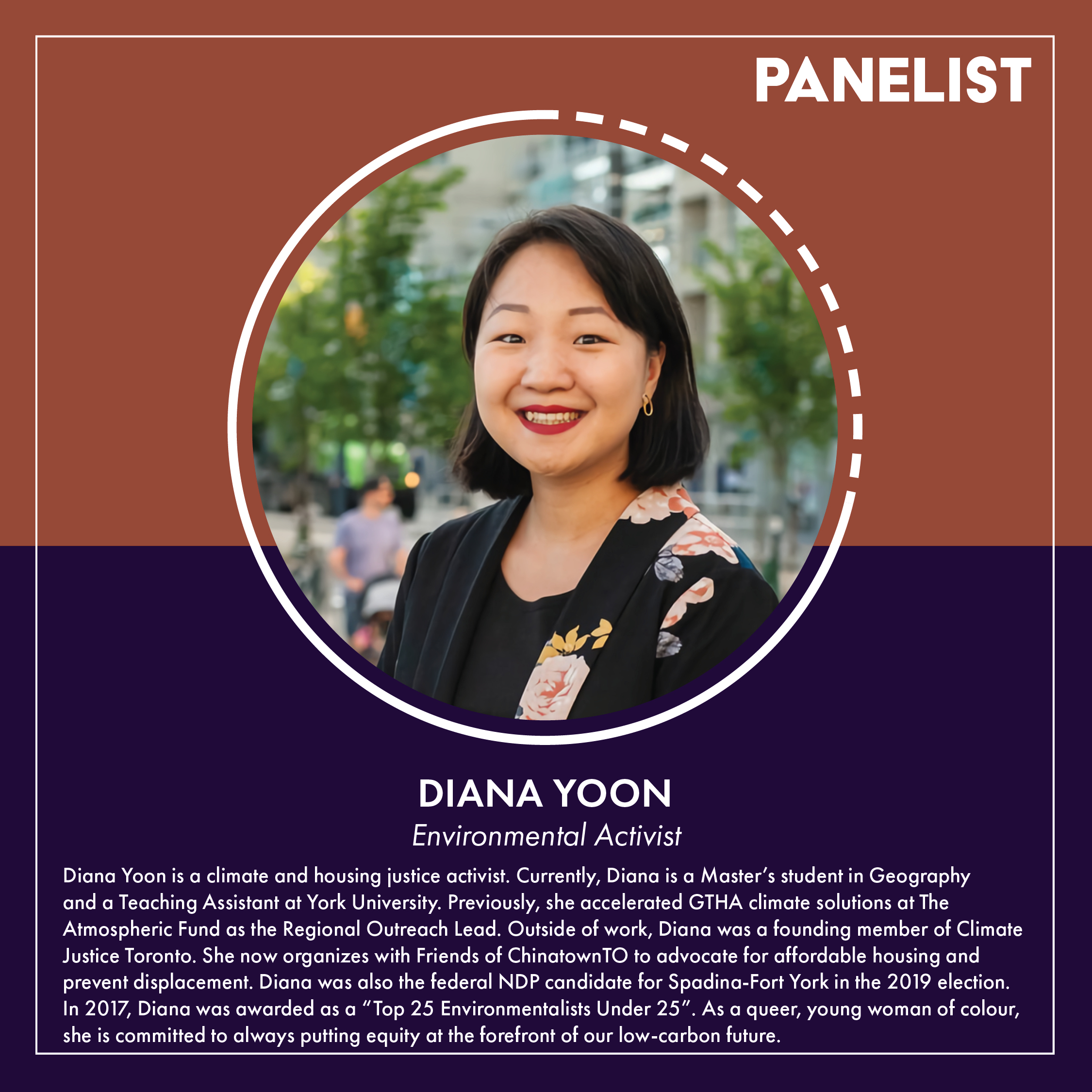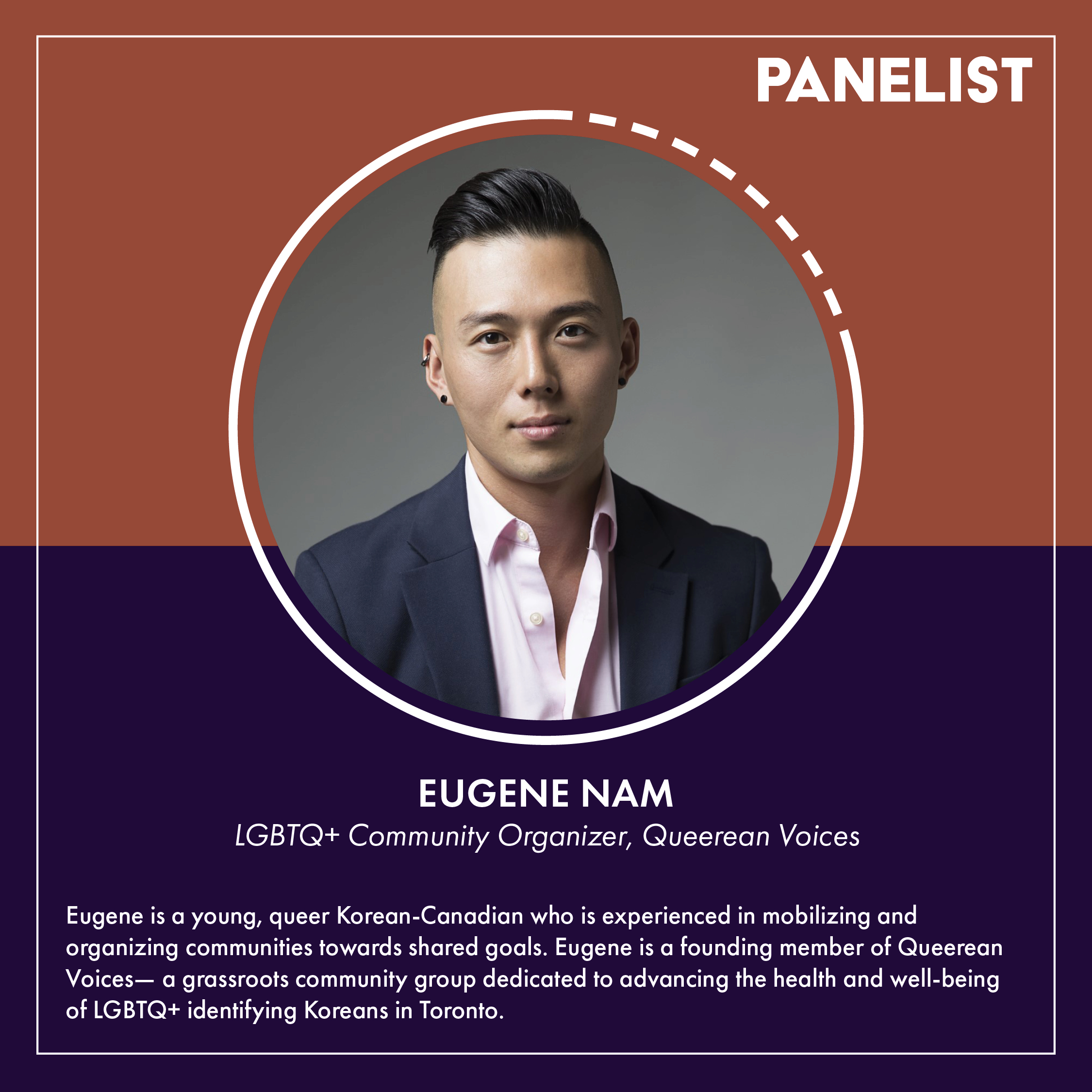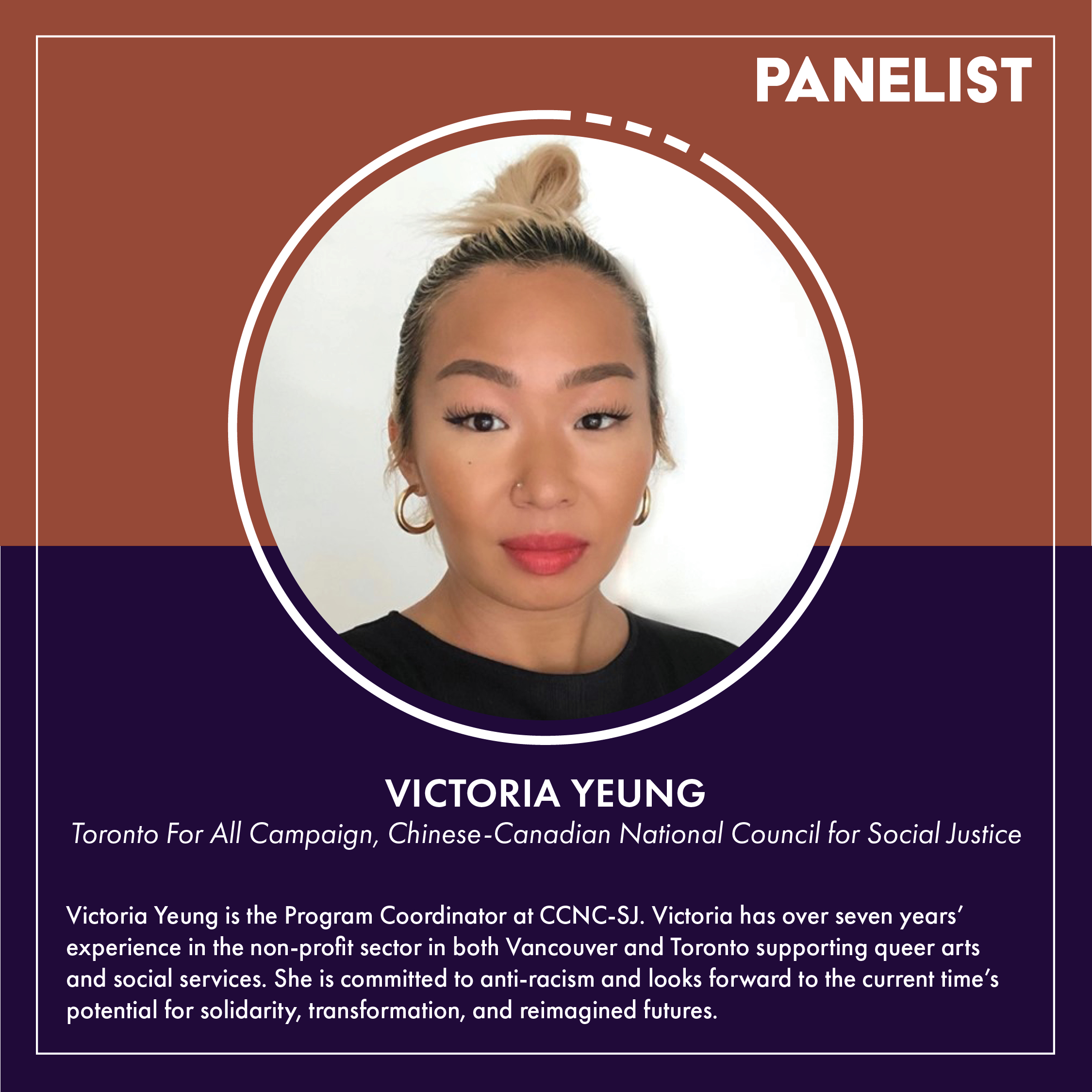 Agenda 
4:00            |           Welcome and introductions
4:15            |           Student spark talks
4:30            |           Panel discussion
5:45            |           Question & answer period

*Opening Remarks
Professor Ann Kim

 (

Department of Sociology, York University)


Ann Kim

is an associate professor in the Department of Sociology at York University. Her research interests include these main areas: migration studies, race and ethnicity, and Korean/Asian Canadian Studies. She is the co-editor of Korean Immigrants in Canada: Perspectives on Migration, Integration and the Family (2012), and Outward and Upward Mobilities: International Students in Canada, Their Families, and Structuring Institutions (2019).


Professor Hyun Ok Park (Department of Sociology, York University)
Hyun Ok Park is a Professor of Sociology and Director of the Korean Office for Research and Education (KORE) at York University.  Her books include: Two Dreams in One Bed: Empire, Social Life, and the Origins of the North Korean Revolution in Manchuria (Duke University Press, 2005); and The Capitalist Unconscious: From Korean Unification to Transnational Korea (Columbia University Press, 2015). She is completing a book manuscript, "A Sublime Disaster." Park serves on the editorial boards for Global Perspectives and Economy and Society.
Philip Cho (Chair, Korean Canadian Scholarship Foundation)
Philip Cho is the Chair of Korean Canadian Scholarship Foundation, a charity providing scholarships and programs to help young Korean-Canadians succeed. Philip is a partner at the law firm, WeirFoulds LLP, practicing primarily in Insolvency and Bankruptcy. He serves as executive member of the OBA – Insolvency Section, board member of the Korean Canadian Lawyers Association, and board member of the International Association of Korean
Panelists
Moderator: Joseph Park, President, KCWA Family and Social Services, and Psychiatrist
Joseph Park is a psychiatrist at Humber River Hospital. He has an active interest in matters related to the intersection of race, nationalism, and identity. He was born and raised in Toronto.
Jenny Heijun Wills, Author, Older Sister. Not Necessarily Related: A Memoir
Jenny Heijun Wills is the author of "Older Sister. Not Necessarily Related." It won the 2019 Hilary Weston Writers' Trust Nonfiction prize and the 2020 Eileen McTavish Sykes Best First Book Prize. It was a 2019 Globe & Mail Best Book and a 2019 CBC Best in Canadian Non-Fiction Book. She is Chancellor's Research Chair at the University of Winnipeg where she also teaches in the English Department.
Joseph Juhn, Filmmaker, 'Jeronimo' and 'Chosen'
Joseph  Juhn  is  a Korean  American  lawyer-turned-documentary filmmaker.  Prior to becoming a full-time doc-maker, Joseph was working as a New York attorney for 4 years at a Korean government agency based in Manhattan, New York, specializing in Intellectual Property and Startup law.  A  serendipitous  backpacking  trip  to  Cuba  in  2015  changed  Joseph's  life  when  he  ran  into  a  Korean  descendant  by  chance,  inspiring  him  to  rekindle  his  storytelling  ambitions.  
"Jeronimo" is Joseph's first feature film. "Jeronimo" has been accepted to 17 film festivals and opened in theaters in Korea in November, 2019, drawing over 20,000 audiences and receiving one of the highest audience ratings out of all the movies released in that year. Joseph earned a BA in Film & Video at UC San Diego, and a JD at Syracuse University College of Law.  
Diana Yoon, Environmental activist
Diana Yoon is a climate and housing justice activist. Currently, Diana is a Master's student in Geography and a Teaching Assistant at York University. Previously, she accelerated GTHA climate solutions at The Atmospheric Fund as the Regional Outreach Lead. Outside of work, Diana was a founding member of Climate Justice Toronto. She now organizes with Friends of ChinatownTO to advocate for affordable housing and prevent displacement. Diana was also the federal NDP candidate for Spadina-Fort York in the 2019 election. In 2017, Diana was awarded as a "Top 25 Environmentalists Under 25". As a queer, young woman of colour, she is committed to always putting equity at the forefront of our low-carbon future.
Eugene Nam, LGBTQ+ Community Organizer, Queerean Voices
Eugene Nam is a young, queer Korean-Canadian who is experienced in mobilizing and organizing communities towards shared goals. Eugene is a founding member of Queerean Voices— a grassroots community group dedicated to advancing the health and well-being of LGBTQ+ identifying Koreans in Toronto.
Victoria Yeung, Toronto For All Campaign, Chinese-Canadian National Council for Social Justice
Victoria Yeung is the Program Coordinator at CCNC-SJ. Victoria has over seven years' experience in the non-profit sector in both Vancouver and Toronto supporting queer arts and social services. She is committed to anti-racism and looks forward to the current time's potential for solidarity, transformation, and reimagined futures.
Student spark talks
Elena Chou, PhD Candidate in Sociology, York
Asian-ness, Whiteness and Canadian Multiculturalism: "Race" and "Race" Discourses in Canadian Culture in the Context of Liberal and Neoliberal Multiculturalism in Canada
Janice Phonepraseuth, PhD Candidate in Sociology, York
Modelling the Myth: Asian Youth Experiences of the Model Minority Stereotype, Hyphenated Identities, and Racialization in Canada
Angie Park, PhD Candidate in English, York
Between the "Korean" and "Asian" Woman: A Palimpsest of Diasporic Korean Femininity
Lucinda Yae-Rim Ro, PhD Student in Sociology, York
Sports Diaspora: An Alternative 'Space' to Challenge the Nation-Centric Discourse in the Field of Diaspora
Patricia Trudel, PhD Student in Sociology, York
Diasporic Reimaginings of Han Among Korean Youth in Canada
Monisha Poojary, PhD Student in Sociology, York
Asian Panethnicity: Negotiating Identities Amongst Intersections of Unity and Diversity
Seulsam Lee, MA Student in Sociology, York
Life as Young Sojourners: The Experience of South Korean Working Holiday Program Participants in Canada
Kim Lynette Abella, MA Student in Sociology, York
Second Generation Filipino-Canadian Identity: Language maintenance and Dissonant Relationships with First Generation Filipino-Canadians and Filipinos in the Homeland
Description
The model minority paradox suggests Asian people are socio-economically successful, well integrated, and do not face racial inequities; they are constructed as not Black. People of Asian ancestry are referred to as a "model" for other communities of colour, as "proof" that as long as one works hard, anyone can be successful. This perception of success is a convenient narrative used to resist systemic change for Black and Indigenous peoples, fosters racist ideologies, and creates tensions among communities of colour. Moreover, it presumes a singular Asian subjectivity that is damaging to many young people who do not fit stereotypes.
Along with the myth of being a "model minority," Asian people are exoticized, they are accused of taking coveted university spots, and they are never authentically Canadian or American; they are constructed as not White. They are perpetual foreigners, and they are blamed and feared for causing pandemics; they are inconvenient. This paradox framed the experiences of Korean and Asian people in the settler colonial states of North America for decades.
The last few years have seen an unprecedented surge of an Asian, and Korean, presence in mainstream consciousness - Kim's Convenience, BTS, Black Pink, Crazy Rich Asians, Parasite, Ken Jeong's career shift, Sandra Oh and "It's an honor just to be Asian," Andrew Yang (who ran for the US Democratic presidential nomination), and now, COVID-19, blamed on China. These are just a few examples of new and public constructions that shape Asian identity and experience, and they reveal the contradictory ways in which Asian people exist in Western imaginations.
Yet, there is little understanding of how these constructions are negotiated among Korean and Asian Canadian youth. Does the model minority paradox continue to impose the parameters that measure and evaluate Asian and other youth of colour? How pervasive is the paradox for today's youth dealing with an intersection* of ethnic, racial, gender, religious, class, and sexual identities? How does the current climate of racism expose the paradox? How do we effect change?
This first Korean Canadian Student Conference at York University, which is open to all, will examine the model minority paradox and reflect on lived experiences in a shifting cultural context. This event is designed continue the dialogue that started with the KPWA-KCSF "Know your place" event in November 2018 and the KCSF "Beyond allyship: Coalition toward anti-racism" event in August 2020. This is the third event in a series of critical race conversations geared to Korean and Asian Canadians.
Event #1, Beyond allyship: Coalition toward anti-racism
Event #2, A conversation with Professor Claire Jean Kim
Event #3, Kim's In/Convenience: The model minority paradox
Some resources
Asian Americans Are Still Caught in the Trap of the 'Model Minority' Stereotype. And It Creates Inequality for All by Viet Thanh Nguyen
Model Minority Myth Used as a Racial Wedge Between Asians and Blacks by Kat Chow
The Toll of Historically Pitting Asians Against Blacks by Christine Huang
The Urgency of Intersectionality by Kimberlé Crenshaw