The Double-Edged Sword of Health and Safety: COVID-19 and the Policing and Exclusion of Migrant Asian Massage Workers in North America
May 21, 2021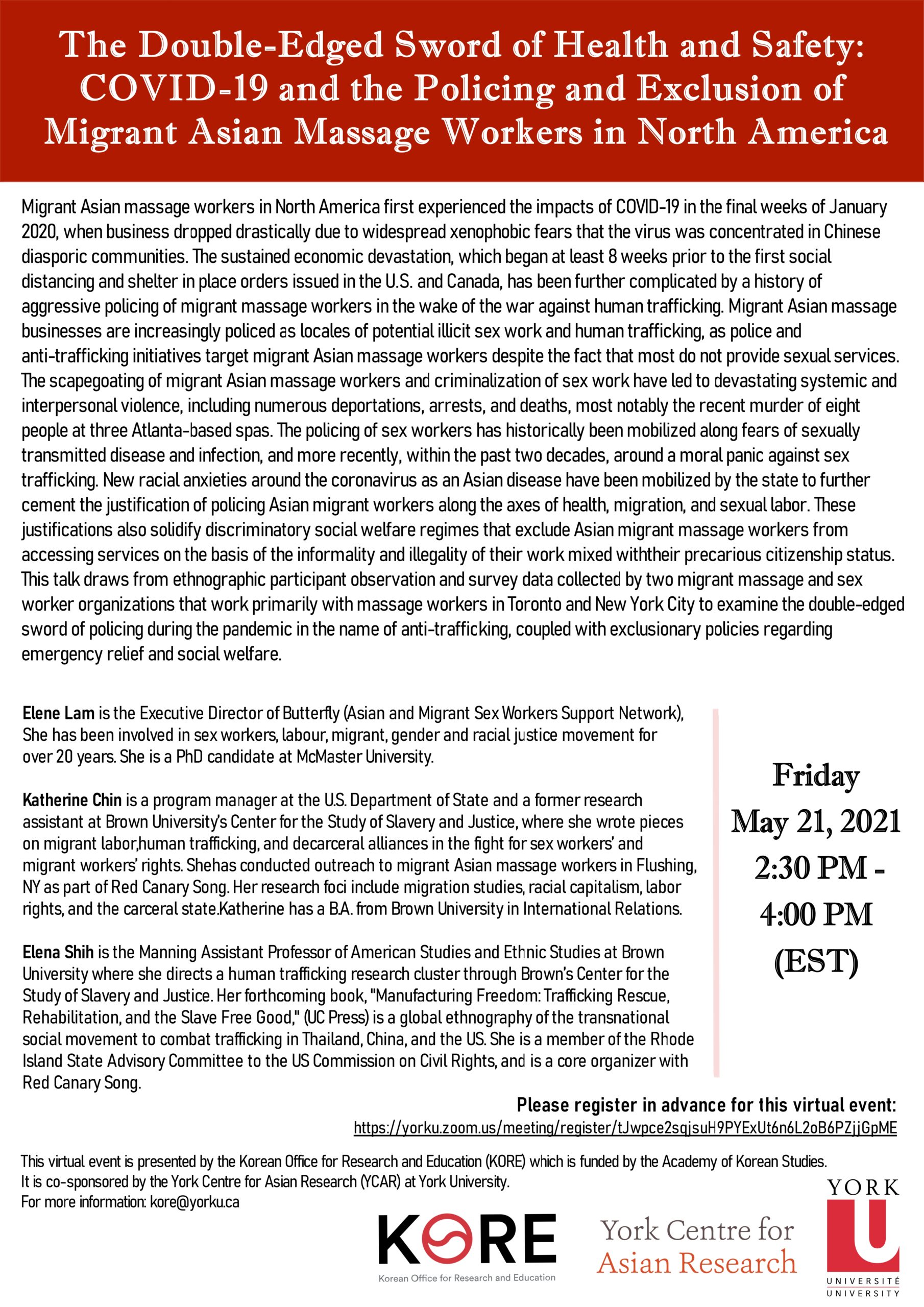 Please register HERE in advance for this virtual event.
Event Description
Migrant Asian massage workers in North America first experienced the impacts of COVID-19 in the final weeks of January 2020, when business dropped drastically due to widespread xenophobic fears that the virus was concentrated in Chinese diasporic communities. The sustained economic devastation, which began at least 8 weeks prior to the first social distancing and shelter in place orders issued in the U.S. and Canada, has been further complicated by a history of aggressive policing of migrant massage workers in the wake of the war against human trafficking. Migrant Asian massage businesses are increasingly policed as locales of potential illicit sex work and human trafficking, as police and anti-trafficking initiatives target migrant Asian massage workers despite the fact that most do not provide sexual services. The scapegoating of migrant Asian massage workers and criminalization of sex work have led to devastating systemic and interpersonal violence, including numerous deportations, arrests, and deaths, most notably the recent murder of eight people at three Atlanta-based spas. The policing of sex workers has historically been mobilized along fears of sexually transmitted disease and infection, and more recently, within the past two decades, around a moral panic against sex trafficking. New racial anxieties around the coronavirus as an Asian disease have been mobilized by the state to further cement the justification of policing Asian migrant workers along the axes of health, migration, and sexual labor. These justifications also solidify discriminatory social welfare regimes that exclude Asian migrant massage workers from accessing services on the basis of the informality and illegality of their work mixed with their precarious citizenship status. This talk draws from ethnographic participant observation and survey data collected by two migrant massage and sex worker organizations that work primarily with massage workers in Toronto and New York City to examine the double-edged sword of policing during the pandemic in the name of anti-trafficking, coupled with exclusionary policies regarding emergency relief and social welfare.
Speakers
Elene Lam is the Executive Director of Butterfly (Asian and Migrant Sex Workers Support Network), She has been involved in sex workers, labour, migrant, gender and racial justice movement for over 20 years. She is a PhD candidate at McMaster University.
Katherine Chin is a program manager at the U.S. Department of State and a former research assistant at Brown University's Center for the Study of Slavery and Justice, where she wrote pieces on migrant labor, human trafficking, and decarceral alliances in the fight for sex workers' and migrant workers' rights. She has conducted outreach to migrant Asian massage workers in Flushing, NY as part of Red Canary Song. Her research foci include migration studies, racial capitalism, labor rights, and the carceral state. Katherine has a B.A. from Brown University in International Relations.
Elena Shih is the Manning Assistant Professor of American Studies and Ethnic Studies at Brown University where she directs a human trafficking research cluster through Brown's Center for the Study of Slavery and Justice. Her forthcoming book, "Manufacturing Freedom: Trafficking Rescue, Rehabilitation, and the Slave Free Good," (UC Press) is a global ethnography of the transnational social movement to combat trafficking in Thailand, China, and the US. She is a member of the Rhode Island State Advisory Committee to the US Commission on Civil Rights, and is a core organizer with Red Canary Song.
This event is presented by the Korean Office for Research and Education (KORE) which is funded by the Academy of Korean Studies. It is co-sponsored by York Centre for Asian Research (YCAR) at York University.